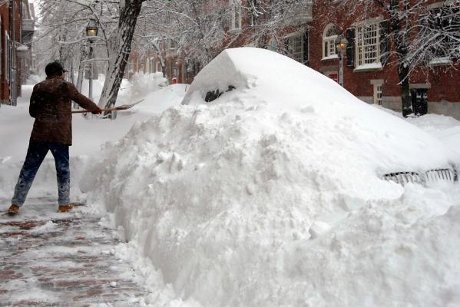 New York - A snowstorm that hit the northeastern United States (U.S.) casualties.
So far, 9 people were reported killed in the storm which saw high winds and heavy snow this.

As reported by AFP on Monday (11/02/2013), the death toll came from a region in the northeast U.S..
A boy of 11 years in Massachusetts and his father died when he was heating the car.
The poor boy died from inhaling carbon monoxide gas arising from automobile exhaust clogged with snow.

In the area of ​​Poughkeepsie, New York, a 74-year-old man who was walking on the roadside, killed by hit by a car that lost control.
In Auburn, New Hampshire, a man was killed in a car accident.
This man lost control while driving his car on the snowy road and then hit a tree.

Later in the Connecticut area, local authorities reported at least 5 deaths due to a snow storm.
Meanwhile, a fatal accident in Maine reportedly claimed one life.

As a result of this storm, a number of areas ranging from the New England, the United States up to a number of Canada piled snow up to 1 meter.
This snow storm forced nearly 300 thousand people in the northeastern U.S. are living without electricity since Saturday (9/2) local time.

Transport services in New York and surrounding areas also came to a standstill due to a storm that hit since Friday (8/2) is the local time.
But now transport services in the region are gradually returning to normal.

A number of New York's busiest airports, such as LaGuardia, John F Kennedy and Newark that had to cancel thousands of flight schedules, finally back in operation since Saturday (9/2), although there are a number of delays.

While the local railway company, announced the re-operation of Amtrak train service, especially the New York-Boston route.
Rail service on the line was stopped due to heavy snow railroads met and fallen trees that can not be passed.
However, currently only certain services are back in operation, pending full repair carried out.

In response to this disaster, President Barack Obama has signed an emergency declaration for the state of Connecticut.
This declaration, according to Governor Dannel Malloy, manage post-disaster for the state.

"The Declaration set the assistance required by the state and our city while we recover from this historic winter storm," said Malloy.

Agency local weather forecast predicted snow storm is moving away from the U.S. east coast, but leads to the northern part of the U.S. land area.

(NVC / ita)